Schedule charge departure time
Last updated 17-Oct-2021
Tesla allow you to schedule charging based on either a start time or departure time. This quick tip guide shows you how to schedule the departure time and make use of off peak electricity and set whether you want the car to be preconditioned or not. Before you start, you need to check you do not have a scheduled start time set as while you can toggle through between the two displays on the screen, you can not set one if the other is already set.
What you need to do
To set a departure start time, bring up the charging menu, and at the centre bottom you will see either "Schedule Departure" or "Schedule Charging". If it says "Schedule Charging" and beneath it it in blue it says "Start at xx:xx", tap the on off slider to the left of the time to disable it. Then tap on the text beneath it to switch to Scheduled Departure.
Once the scheduled charging display is visible, you have the option to check the settings and turn it on or off. If it is blue, it is already scheduled. Just tap "Schedule" to pop up the menu for more controls or to turn it on.off.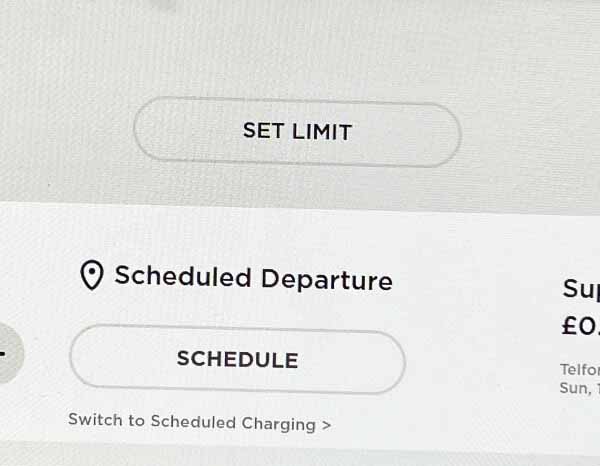 From the menu to set the schedule you can adjust the departure time. Many people seem to think this is the start time which it is not, you are setting the time by which you want the car to be charged.
Simply adjust the time and then click "Set". There are additional setting regarding off peak electrciity and pre conditioning the car that you can further set by clicking "Settings" in the top right corner.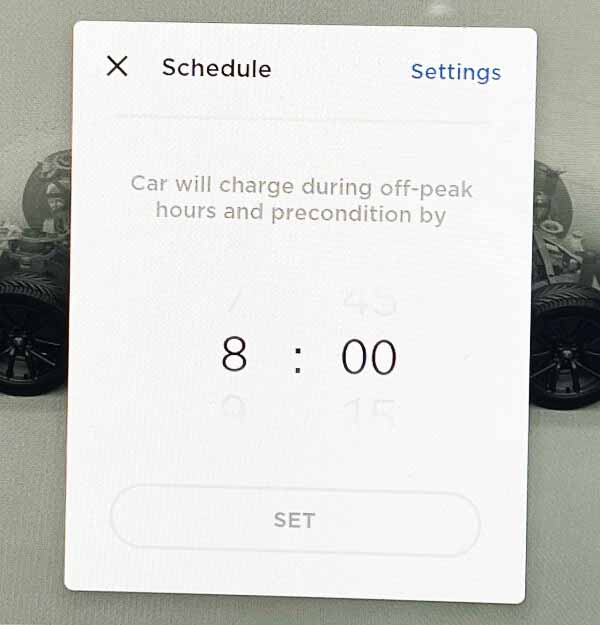 From the settings menu you can tell the car whether you want the car to be preconditioned automatically or not. You can also tell the car if you want it to make use of Off-Peak charging (you can further set the hours when the off peak rate is available).
If you set preconditioning the car will try to save some of the charging needs to the end so the charging finishes just as you are about to leave at the set time.This can be advantageous in winter.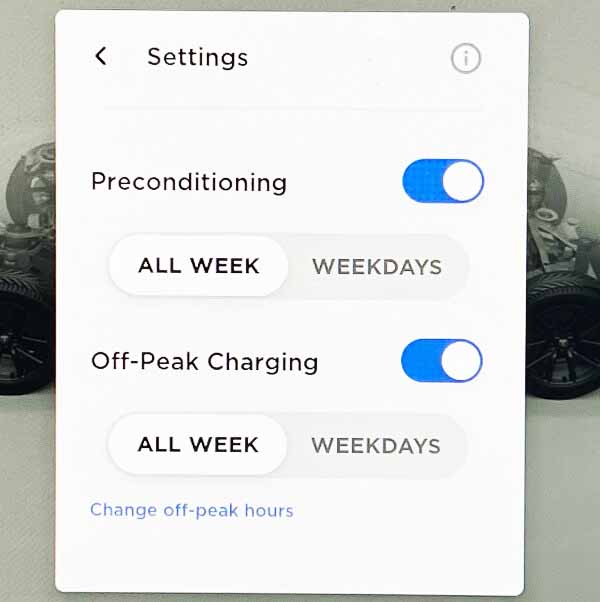 If you set the Off-Peak hours, the car will try to ensure as much of the charging is done during those hours although it only has the concept of when the cheap rate ends. It will start as soon as it needs to to reach the desired charge limit. The off peak and departure can however be in conflict and our experience is if preconditioning is set, some of the charging will be done before departure, irrespective of whether this is peak rate or not.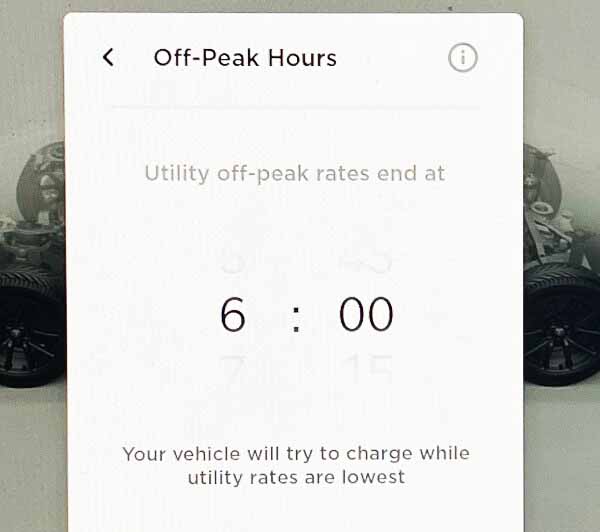 Scheduled departure has not always been the most reliable feature of the car and some owners would prefer just to set a start and end time for charging which Tesla do not provide.
Other top tips
By using our site, you acknowledge that you have read and understand our Privacy and Cookie Policy. Your use of the tesla-info website is subject to these policies and terms. All data is provided on a reasonable endeavours basis but errors and omissions may exist. No data should be relied upon as being accurate and additional checks should be made if the information is material to any purchase or use of the car. We provide product listings on Amazon for which we will receive a small commission if you chose to buy.
&nbsp