Delete a destination from your Tesla
Last updated 12-Oct-2021
Every destination you put into your Tesla is kept as a historical list. For numerous reasons you may want to delete one or more of these, for example your home destination if you borrowed a loan car. The good news is it's quick and easy to do.
What you need to do
To delete a destination simply call up the list of previous/recent destinations by clicking on the navigate icon on the screen. From here you will see the historical list, ordered in chronological order. To remove an entry, simply touch the address and swipe it sideways off the list. Thats it.. gone forever.
If you want to delete all the addresses then it can be time consuming. The alternate way of removing them is to reset the car from the menu. This will however forget all settings including driver profiles and bluetooth devices.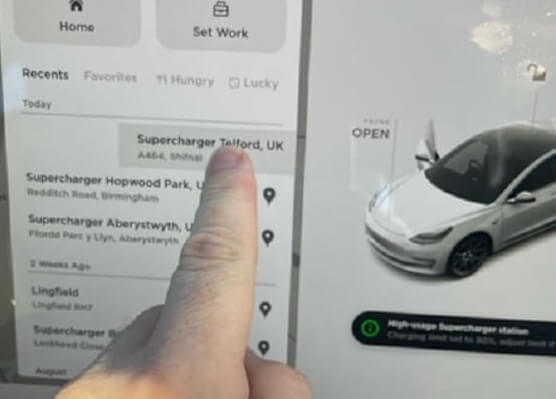 While we're on the subject of the Sat Nav, swiping "Navigate" at the top of the menu will automatically take you to either Home or Work depending where you are. And double tapping the destination once set will toggle you between a display of the whole route and just zoomed in version of the map.
Other top tips