Tesla and the path to full self-driving value
We first wrote this article in June 2019, over 2 years ago. Tesla were on the verge of a breakthrough, Musk was talking up feature complete by the end of the year, full self-driving was just over the horizon, and here we are two years later with a distinct feeling of deja-vu, only we're now told Tesla Vision is the way forward, with no need for the radar. How this fits with the 4D approach they talked about last year is not entirely clear although likely to be all part of a major redevelopment of the fundamental logic. At the AI day in August 2021 more information was shared, and issues with aligning images to create a seemless landscape were revealed, something that most thought wuld be a day on problem as an object passing from one camera to the next must surely need to be tracked to avoid something suddenly appearing out the blue as a different object seemingly disappears from view as the object transitions from one camera to the next. We speculate this could easily be a cause for phantom braking and not just the radar as previously claimed, especially as people without the radar are still experiencing the issue.
We have also taken a look at the Tesla safety statistics in our Tesla safety report and the need for caution which pretty much puts numbers on the improvements Tesla have made over the last 2 years, and in practice the improvement just isn't happening and the wild claims of " exponential improvements" are wholly unfounded.
We're still sceptical on progress
Elon Musk has tweeted a couple of interesting points: firstly, he's now admitting that he's been optimistic in his timescale estimates. Frankly, anybody who didn't know that especially with regard to FSD haven't been following the topic. In 2017 FSD was due to significantly depart from EAP and yet today we have traffic lights and stop signs and the promise of city street driving, and we're not convinced by the performance of these. Secondly, he's now admitted that driving is a harder problem than he thought and the real world have an infinite number of edge cases. Your expectations of how hard a problem is compared to mine and the actual reality will all be different, but it's of little surprise that Musk thought it would be easier than it's turning out to be given the overly optimistic timescales he now admits to.
We've also seen the need to change AP hardware three (HW2->HW2.5->HW3->HW3 less radar) and there is now talk of FSD2 for the cybertruck. Surely if the sensor suite and computing power were currently sufficient then why the need for yet more changes? We're also doubntful the sensor suite is sufficient. Camera resolution is not high, but given the compute power was wrong a number of times, why should we have confidence in the sensor suite being sufficient? There are 2 significant areas where we feel the sensor suite is failing.
The lack off redundency. The cars currently have a relatively high instance of camera unavailability preventing even basic AP being used. There is nothing happening that can improve on a blocked or misted camera view and no real overlapping image to cover if the first camera fails. As a consquence, level 3 self driving may be a natural limit with the car managing a 10 second controlled handover in the event one of the cameras becomes unavailable.
The positioning of the cameras is also flawed. Musk has repeatedly claimed that we can drive using our eyes so a car can self drive with vision only. The problem with this claim is drivers sit in a position to one side to afford the best look down the road. Anybody that has driven in a car with the steering wheel on the opposiute side to normal will tell you how difficult it is to drive, overtake, pull out and make some turns. The centrally placed forward vision cameras are in the single worst position for looking beyond the car in front, something that all good drivers instinctively do.
What do Tesla actually mean by FSD?
Tesla talk about FSD without particularly explaining what they mean. Is this level 4 driving where the car can drive for significant parts of the journey with the driver being "mind off", or the full level 5 robotaxi version?
If you pick the FSD option when ordering it just adds Traffic light and stop light control withthe promise of autosteer on city streets in the future. This is level 2 autonomy.
Tesla currently say: Every new Model 3 comes standard with advanced hardware capable of providing Autopilot features today, and full self-driving capabilities in the future—through software updates designed to improve functionality over time.
Previously Tesla have said FSD will let you get in the car and it will drive you to wherever you want to go with minimal intervention.
Musk has claimed that buying FSD now will allow your car to become a robotaxi in the future and go out unsupervised.
Lets also take a look at some of the other challenges before they can achieve any automated driving (as opposed to advanced driver assist where the driver is still responsible):
The regulators need convincing before they approve commercial self-driving in any meaningful way. The suggestion that a statistical model of only 1 or 2 orders of safety better than humans is sufficient is one we very much doubt. We cannot think of any area of society other than medicine where such calculations are made with such close ratios. Risk calculations are much more conservative with respect to injury and fatalities, humans are allowed to make some mistakes, but machines, especially commercial transport, have much higher expectations. If train crashes then a significant investigation follows, imagine that after every self-driving accident even if the purpose was to confirm the self-driving car was not at fault, and just as importantly, the self-driving car couldn't have done more to avoid the accident. To be approved, we suspect regulators will not just want the cars to make no mistakes, but that they emulate the best drivers who through anticipation and roadcraft are able to significantly reduce their chances of an accident.
Insurance companies won't underwrite it until they are extremely confident, and after a handful of accidents the world will be bogged down in legal arguments, investigations and so on. The worldwide fleet of Boeing 737 aircraft have been grounded because of a failing in the technology, the first suggestion of a bug in car will result in the feature being disabled across the world causing immense damage to Tesla's reputation and possible litigation. We already see major investigations after fatal accidents involving a Tesla where there is as suspicion that the autopilot software is engaged and even when it is still clear the driver is responsible, Tesla have been held to account. We suspect that this may be why Tesla are entering the insurance market as it will give them the ability to control this aspect, however most insurers require some form of underwriting in the event of significant loss.
The ability to autonomously drive in all scenarios (i.e. level 5) increases the complexity vastly. Anybody that has driven in some countries will realise how the laws of the road vary massively from area to area, not an insolvable problem but the models need to be trained and retrained for these constant local differences. We have mentioned above that regulators will look for defensive driving to avoid accidents, but in some countries a degree of assertive driving is required to get out into traffic. You would be stationary for a long time without such an approach in many cities. You could try and limit the use to countries where there driving standards are better, but even in the UK, which has one of the lowest accident rates in the world and driving standards are relatively high, there are still countless situations where you need to show a degree of assertiveness to make progress.
It is not just about defensive or assertive driving. Sometimes a degree of common sense needs to be applied to deal with an edge case, maybe you need to yield even when you have the theoretical right of way and no accident would occur but a stalemate would arise. If you met a tractor on a country road and you have a car behind you preventing you from reversing, who gives way? What if the car behind you was towing a caravan? Or it was just after a tight bend? What if you heard emergency sirens approaching? There are pragmatic situations where the cars would need to back up as it is unrealistic for the tractor to reverse but the rules of these situations are heavily dependent on the local situation. Maybe the right action is to bump up a curb or onto grass at the side of the road as a temporary measure, sometimes not strictly lawful driving behaviour.
In urban areas, people would abuse the knowledge that the car would yield and walk out in front of them. The challenge is not just a case of the car doing what we do, its about the car doing completely new things. Road design would need to change, society would need retraining, laws would need to be introduced regarding jay walking around the world with the ability to identify the pedestrian and prosecute.
Therefore, in our opinion, level 5 full self-driving (driverless cars), is simply not plausible with the current cars and for many years, at realistically would require level 4 driving to be in place to learn these edge cases and how to deal with them.
So where's the path to value?
The value is the selective targeting of level 4 driving.
Rather than focus on the feature set for all areas of driving and chasing a goal that is thwarted with issues, we believe that Tesla should take a different approach. Their current development road map appears to be trying to enable the car to autonomously drive in an ever increasing percentage of situations, but rather than achieve 95% ability on 100% of roads, with driver intervention when it fails (level 2 autonomy) we believe they would be better by focusing on 100% of the required ability on 50% of the roads.
So what does that look like? If we consider the hardest road conditions to drive on, they're urban situations. Parked cars, pedestrians, turning across traffic, stop signs and lights, merging onto roundabouts, single lane roads where you need to yield for oncoming traffic. The list goes on. These are not trivial issues and the penalty for getting it wrong can be very high.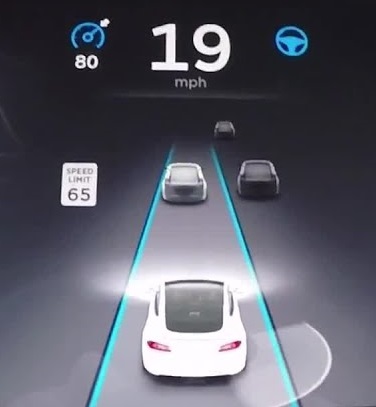 But there is a class of road where many of these are not present, and they're also roads where drivers spend several hours in boredom. Freeways, Motorways, Autobahns, The main trunk roads across countries. Autopilot is already incredibly close to addressing these roads in their entirety, Tesla could divert ALL resources into completing the job and getting approval for level 3 or even level 4 autonomy on such road types. To do so they need to resolve the following challenges, which they need to solve regardless of approach, we are just changing the priority:
They need to work on the process of the driver handing over control to the car and the car handing it back in a controlled and predictable manner. This goes beyond a simple pulling of a control stalk, especially in the handing back to the driver, and the safety protocol in how to deal with the situation where the driver is asleep and isn't ready to resume control
They need to increase the reliability especially object detection at distance. The accident rate is currently reported as twice as safe, we believe that in itself this is debatable, but the safety margins need to be considerably higher. Current motorway fatality rates are currently 1 in a billion motorway miles driven in the UK. Tesla accident rates (accepting that accidents and fatalities are somewhat different) are 1 in every 3 million miles. In the UK there could be 300 none fatal accidents to every fatal just to maintain parity with the current statistics. Tesla need to be looking at an accident rate probably in excess of 100x better than its current rate to be credible
If they crack this scenario such that a driver can drive the first mile or 2 to the interstate and then settle back and work on their laptop for 2 hours while the car drives, and then takes back control, it would be the first truly autonomous, publicly accessible feature offering "mind off" driving. Tesla can then extend their footprint from this base to other road types.
This is less about feature complete of all features, but execution poor, its about feature perfected for the subset of features required for a specific road type. Get one road type cracked and the rest will eventually follow. There is a related benefit to this approach too. The human behaviour aspects of driver aids such as the current implementation of autopilot means it is increasingly abused by drivers. Liberties can be taken, and the driver often gets away with them, and the better the system becomes the less prepared many drivers will be to intervene when the need arises. To move to a lower standard of AP on inappropriate roads, and a higher standard on selected roads, together with the development of better understanding and assessment of the driver's ability to resume control will lead to a reduction in the number of accidents from driver abuse.
The approach we believe that will give both motorists and shareholders value is therefore narrow the scope and execute completely, this will be quicker to market and safer for all. As its purely a subset of the overall vision it can't be slower, but the first to market with the approvals to use it in a public setting will set the precedent, take the first mover advantage and in turn boost product sales, the value of FSD, the reputation and, if Musk's claims of wanting to the safest, the greatest of all value, fewer road fatalities and serious injuries.
What about level 3
Level 3 is where the car takes responsibility for the driving but should it need to, pass the responsibility back to the driver in a controlled fashion. Some countries are moving to partially legislate for this but with some strict conditions including the timescales for handing back control and ensuring the driver is available. This is known as "eyes off" driving, you sit in the driver's seat, you can watch TV, maybe work on emails, but should the cars autonomous driving system detect a situation which it cannot cope with, it has a period of time, 6 seconds has been mentioned, to alert the driver and the driver to stop what they are doing, appraise the situation and be back in control of the car.
This sounds like the idea halfway house; however, we believe it poses the following significant obstacles:
The car will need to always be confident it can drive for the next 6 seconds under all circumstances. The car will not be able to disengage because a bend in the road was tighter than expected, or they hit a sudden bank of fog, they would need to be able to predict the ability to drive safely for 6 seconds. The benefit is situations like the country road where a log jam occurs, the 6 seconds is not a time critical element of the drive unlike a disconnect at 70 mph.
Ensuring the driver is ready. We've seen Tesla been caught up with videos of drivers in the back seat of the car etc, and the defence is typically the drivers' fault. We have a lot of sympathy for that argument, but in a system where the driving responsibility is shared, the car needs to know if can hand back control and we suspect there will be a much bigger emphasis on the driver being available. A driver could easily fall asleep and 6 seconds to wake the driver, for them to comprehend the situation and takeover would be tight. We suspect much work will be required to assess the driver awareness.
The disadvantage of level 3 is lack of predictability. Many drivers currently (and incorrectly) already use their cars in a sort of level 3 mode, using their mobile phones etc., and while a formal level 3 would legalise this, it would also potentially increase the level of abuse.