Tesla buyers guides, worldwide inventory and support for owners
Tesla Info provides a range of comprehensive guide to buying and owning a Tesla car, a number of utiltiies to help decode option codes or check VIN numbers and the most comprehensive listing service for Tesla inventory worldwide. We cover new, certified pre owner (or CPO) and Used car listings and aggregate data from multipel sources in most countries. We incldue inventory on all models including the origianal Roadster and Model S, The Model X and the newer affordable Model 3 and Model Y. We attempt to see through the hype, both positive and negative, and take a rational view. There are plenty of extremely positive and extremely negative sites, and we feel neither extreme is helpful to potential buyers.
We've split the site down into a few sections to help depending on what you want to know.
For inventory either select your country from the menu at the top or click here for an alternative option. Most countries also have the option to sign up to email notifications.
Before you buy your Tesla
The Before you buy your Tesla guide covers a range of topics that you need to be aware of regarding the ownership experience of a Tesla. We touch lightly upon charging, depreciation and some of the common features which generate so much hype like Autopilot. It's also worth having a read of the other sections including the Owning section which covers details of charging to make sure it fits in with your lifestyle.
We've also produced specific buyers guides for each model to cover the main options, features and what we consider the models to go for. We also cover the issues as Tesla are not perfect and understanding the issues is important especially on older and out of warranty cars.
Buying new and used cars
If you've decided to buy, we have a Buying a new Tesla and Buying a used Tesla guides explaining what to buy, the options and the changes over the years. The choice of model, battery size and options all need to be considered as pretty much every choice is an expensive one, as reflected in the used prices. We even have a guide on Buying a used car from Tesla which covers the specication changes that Tesla have been known to make to used cars.
Each model has an individual buyers guide that covers the specific model history and key changes together with the common issues that develop over time.
The wider options have changed over time and we also have consilidated them into a guide to Tesla model history which explains when different options and tweaks were introduced.
We also provide look ups which can extract information from a VIN and tell you when when the car was likely to have been made. We can also help decode manufacturing codes.
Car Inventory listings
We have the most comprehensive car search facility of Tesla inventory including all the new, used and certified pre owned (CPO) cars with an easy to search tool that requires no subscription for many countries.
We cover cars at Tesla and at independents in the US, UK, Norway, Holland, Austria, Spain, Germany, Hong Kong etc including Tesla's mysterious "hidden stock" in. For pretty much everywhere we such as Canada, Austalia, New Zealand etc we just list the Tesla inventory. For every country except the US we offer a free email notification service.
We're constantly extending this to cover other countries classified adverts and BMW i3 and i8 cars in the UK. This gives power to you, the buyer.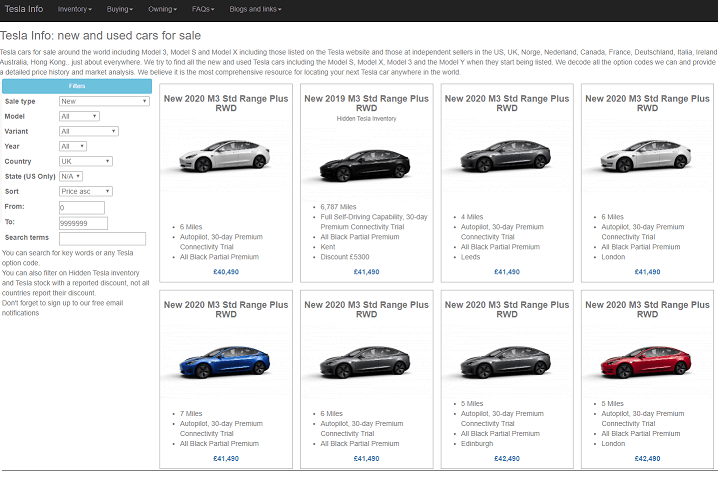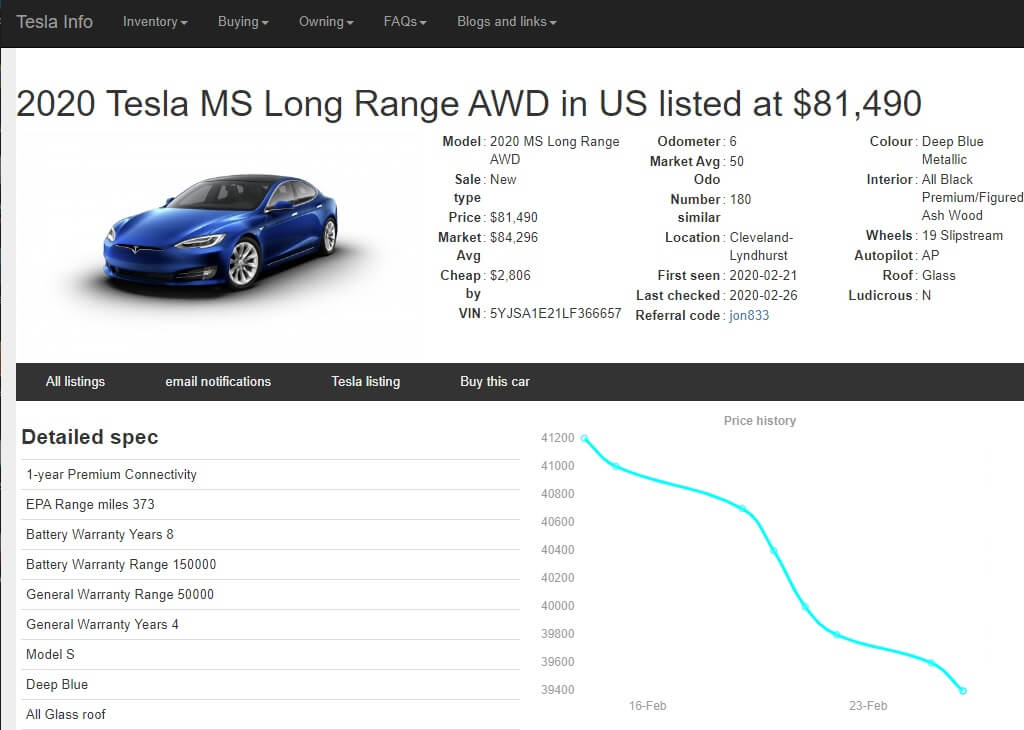 For each car we provide a comprehensive detailed report including where we have access to the option codes, a breakdown of the full configuration and we also provide the original option price where applicable and available.
We also track price changes so you can see how long a used car has been for sale and how the seller has altered the price. Finally, we also benchmark each car to show the prices of comparable cars by model and year. This enables you to see the market at a glance and allow you to draw your own conclusions over value.
Owning a Tesla
If you take the plunge, then we have created an Owners guide on useful information on what it's like to drive, where to charge, how quickly it can, the different charging schemes etc. It also covers warranty and servicing advice as these are not the same as traditional cars.
We go into some depth over charging including an explanation of all the basic terms, how fast each option is, CCS v Chademo v superchargers etc to help
We also have a guide on things to do when you first get your Tesla including making sure you are prepared for punctures and considerations regarding charging and various registrations that may be worth doing.
A bit extra
Finally we provide a number of blogs, help in understanding whether you have free supercharging, fixing parts out of warranty, etc, all available from out menus. You can also see some essentials and accessories which you may find useful and even how to clean the car. We do spend some time detailing some of the issues with the cars as we believe a balanced and informed view is essential for any buyer