Tesla Info: a guide to buying and owning plus all inventory
Inventory Listings
We list more Tesla inventory than the Tesla website.
About Tesla Info
Tesla Info provides both a comprehensive buyers guide and owners guide to Tesla cars. We primarily focus on the UK market but applicable everywhere including the US, Holland, Norway, Canada, Australia, Hong King, Ireland and other Tesla regions. We attempt to see through the hype surrounding a lot of the press and the vocal fan base that is on the internet but also take a rational view not expressed by the Tesla doubters who are convinced the company is going bust. Neither extreme is helpful. These cars retail for anything up to £100,000 in the UK and therefore are not cheap. If you walked into an Aston Martin or Bentley dealership, you'd almost certainly be treated very differently and this surprises some people.
We've split the site down into a few sections to help depending on what you want to know.
And if you're after Inventory listings, just select your region from the list on the left. The recent price changes have caused quite a stir and our price history and market assessment for each car can really make a difference to getting a good deal.
The buyers guide covers a range of topics that you need to be aware of regarding the ownership experience of a Tesla. We touch lightly upon charging, depreciation and some of the common features which generate so much hype like Autopilot. It's also worth having a read of the other sections including the Owning section which covers details of charging to make sure it fits in with your lifestyle.
Buying
If you're thinking of buying, then knowing what to buy, and which options, can be a challenging. The choice of model, battery size and options all need to be considered as pretty much every choice is an expensive one, as reflected in the used prices.
We have also created a guide to help you when buying a used car, more applicable to the UK market but the points hold true everywhere.
Car Inventory listings
We have the most comprehensive car search facility for Tesla inventory including all the new, used and certified pre owned (CPO) cars with an easy to search tool that requires no subscription.
We cover cars at Tesla and at independents in the UK and the US, and we cover all the inventory we can find including Teslas mysterious "hidden stock" in Norway, Holland, Australia, Canada, Ireland, Hong Kong and the rest of the Europe and the world.
We're constantly extending this to cover other countries classified adverts and BMW i3 and i8 cars in the UK. This gives power to buyers.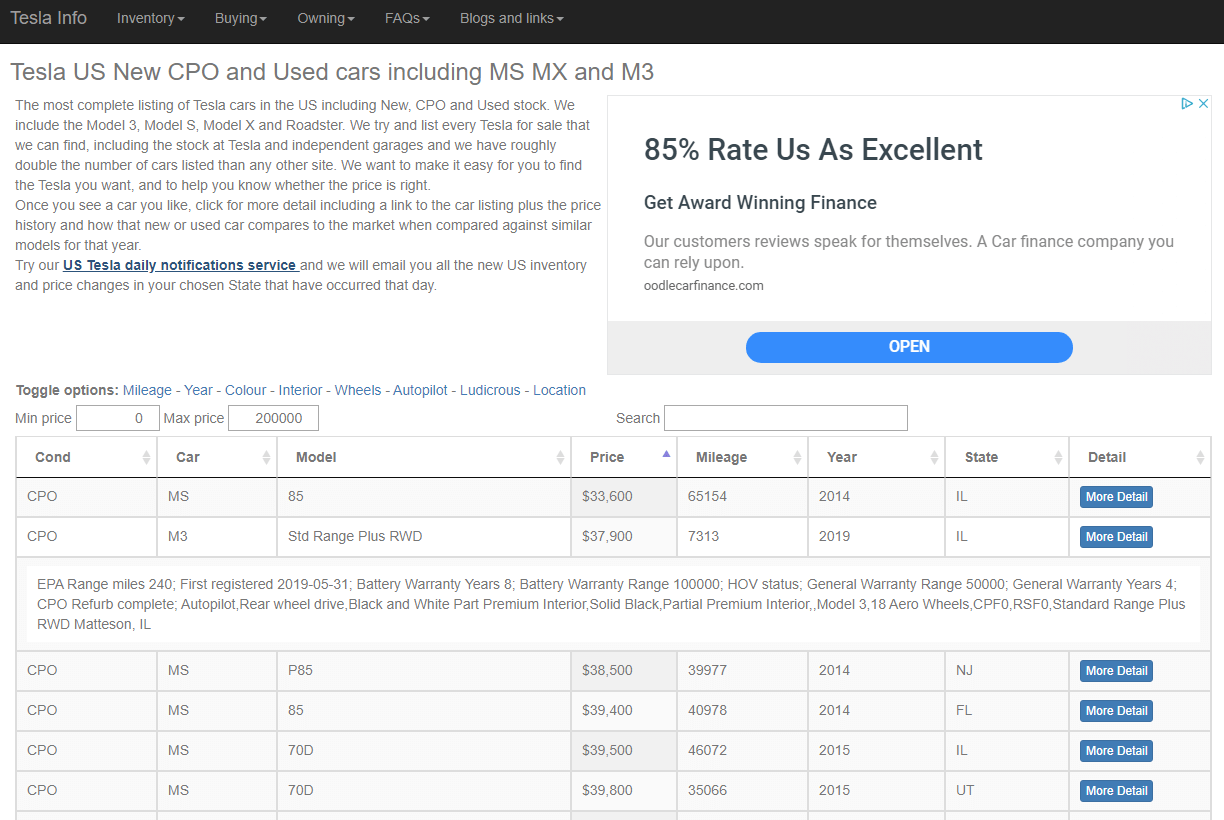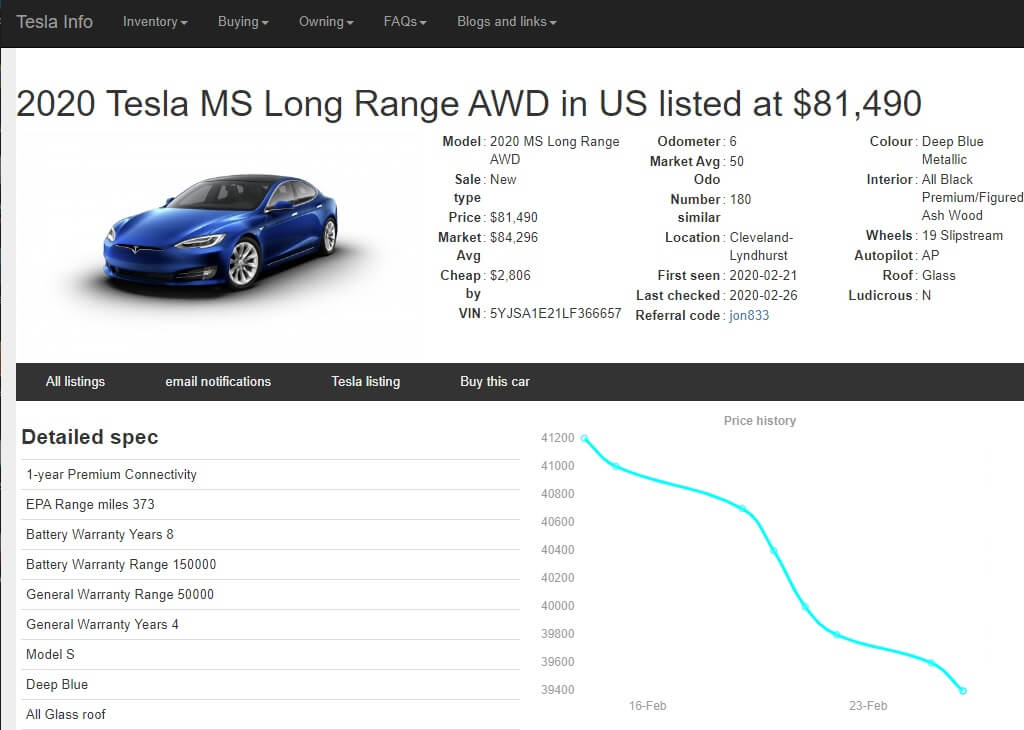 For each car we provide a comprehensive detailed report including where we have access to the option codes, a break down of the full configuration and we also provide the original option price where applicable and available.
We also track price changes so you can see how long a used car has been for sale and how the seller has altered the price. Finally we also benchmark each car to show the prices of comparable cars by model and year. This enables you to see the market at a glance and allow you to draw your own conclusions over value.
If you take the plunge, then we have created an owners guide on useful information on what it's like to drive, where to charge, how quickly it can, the different charging schemes etc. It also covers warranty and servicing advice as these are not the same as traditional cars.
We also have a section on insurance and security as there are some simple steps you can take to significantly decrease your risk of theft.
A bit extra
Finally we provide some other general advice on owning the cars, what essentials and accessories are useful and even how to clean the car. We do spend some time detailing some of the issues with the cars as we believe a balanced and informed view is essential for any buyer