Tesla China built Model 3 (M3)
Tesla started production of the Model 3 in China during 2020 and have started to ship some of the production to Europe. These cars look the same as Fremont built cars, but there are some important differences you should be aware of.
Which Models?
Currently the only cars Tesla are shipping to Europe are Model 3 SR+ models. And there is a good reason for this, the battery they use in China is physically larger than the Fremont battery and only the SR battery fits into the car. They are also only shipping to continental Europe as the cars are only left hand drive.
How can I tell?
There are a couple of ways. China production have VINs that start LRW whereas Fremont start 5YJ.
The other way is look at the charge screen as the China built cars don't have a 90% marker.
What is different?
The China built cars use a lithium iron phosphate (LFP) battery and not lithium-ion cells which is uses in the Fremont built cars. The batteries are also supplied by a different supplier as they are made by Chinese battery maker CATL.
There are some interesting positive messages for these batteries, they can and in fact like being charged to 100% unlike their lithium-ion cousins where its advised to keep the charge to a 90% limit.
The range is also claimed to be up, with the China SR+ claiming a range of 440km while the 2020 Fremont SR+ has a range of 409 km.
Sadly, out contacts tell us the reality is anything but as good. We have only experienced the SR+ in winter so far so the picture may be better in Summer, but on a relatively mild day, the car preconditioned before arriving at a V3 supercharger, after a momentary peak of 100kw the charge rate fell to mid 70s kw and continued to fall there after. You can see from the screen shot it's a China built car as there are not markers at 90%
The bad news doesn't stop there. Once the car had been charged the range reported was 266km or 165 miles based on the past, steady and economical driving in Switzerland. While we expect range to be lower in winter, this is only 60% of the rated range.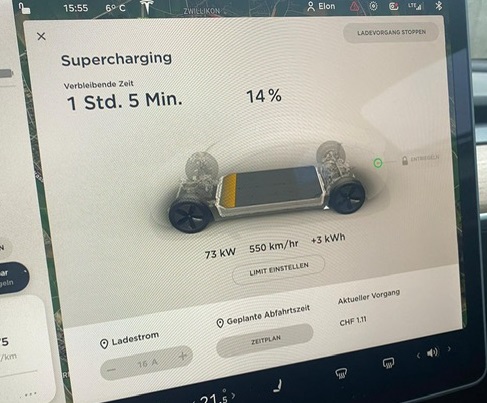 On pick up it was also clear that some of the cars parts varied for no obvious reason. The main difference noted was the variability in headlights on cars which were built and shipped around the same time.
Conclusion
The China built M3 cars were originally sold with a reasonable discount compared to 2020 model new cars, but with the these cars now being discounted to clear remaining inventory the discount is not so appealing. We believe it is worth paying the extra and buying a 2021 specification car unless the discount increases further or you need to buy the cheapest new car you can.